'Eagle Eyed One' AMD Ryzen 7 16GB RAM 500GB Storage 1050Ti
£699.99
'Eagle Eyed One' AMD Ryzen 7 16GB RAM 500GB Storage 1050Ti
Product Details
Standard Specification
Case:
AVP Aquila Mid Case


Processor:
Ryzen 7-2700X
Speed: 3.70GHz - 4.30GHz
Cores: 8
Threads: 16


Motherboard:
Gigabyte GA-A320M-S2H Rev 3.0


RAM:
Corsair Vengeance LPX 16GB


Graphics Card:
MSI Gaming X RX470


Boot Drive:
500GB M.2


Storage Drive:
Processor Cooling:
AMD Wraith Prism RGB Fan


Case Cooling:
3 x Front RGB Fans
1 x Rear RGB Fan


Power Supply Unit:
Cooler Master V750 750W Semi Modular 80 PLUS Gold Power Supply







AVP Aquila Mid Case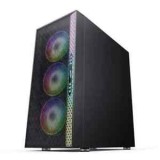 The AVP Aquila is a modern Mid Tower gaming case with an attractive and compact design with mesh RGB LED front panel for superior airflow. A tempered glass left panel allows you to showcase the 4 ARGB fans (included) for that perfect look

Ryzen 7-2700X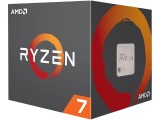 The Ryzen 7 2700X Gen2 can provide you faster and smoother computing experiences. Allow Ryzen to power your experience and be prepared to dominate tasks both in-game and out. Driven into existence by the user's passion AMD have forged a processor with the performance power to dominate your favourite applications, games and more.

Gigabyte GA-A320M-S2H Rev 3.0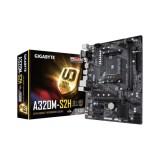 Supports AMD 3rd Gen Ryzen™/ 2nd Gen Ryzen™/ 1st Gen Ryzen™/ 2nd Gen Ryzen™ with Radeon™ Vega Graphics/ 1st Gen Ryzen™ with Radeon™ Vega Graphics/ Athlon™ with Radeon™ Vega Graphics/ 7th Gen A-series/ Athlon X4 Processors
Dual Channel Non-ECC Unbuffered DDR4, 2 DIMMs
Hybrid Digital VRM Solution with Low RDS(on) MOSFETs
Ultra-Fast NVMe PCIe 3.0 x4 & SATA Mode M.2
Multiple Display with HDMI, DVI and D-Sub
High Quality Audio Capacitors and Audio Noise Guard for Ultimate Audio Quality
Realtek® Gigabit LAN with cFosSpeed Internet Accelerator Software
Smart Fan 5 features 5 Temperature Sensors and 2 Hybrid Fan Headers
Anti-Sulfur Resistors Design
AMD Ryzen™ 2000, 1000 Series Compatible
D-Sub
DVI
HDMI
Realtek® GbE LAN with cFosSpeed Internet Accelerator
Audio Noise Guard
High-End Audio Capacitors
TPM header
Hybrid Digital VRM Solution with Low RDS(on) MOSFETs
Dual Channel DDR4, 2 DIMMs
Supports AMD Ryzen™/ Athlon™ Series Processors
Smart Fan 5
• 2 Fan Connectors
• 5 Temperature Sensors
NVMe PCIe 3.0 x4 & SATA Mode 22110 M.2
All Solid Capacitors Design
SATA3* 4
PERFORMANCE
Hybrid Digital VRM with Low RDS(on) MOSFETs
GIGABYTE Ultra Durable™ motherboards use Low RDS(on) MOSFETs which reduce energy wastage through unnecessary residual heat dissipation. This all amounts to tangible energy saving which are beneficial for both end-users and the environment without impacting system performance.
Benefits of Low RDS(on) MOSFETs
? Optimized gate charge to minimize switching losses.
? Lower temperature, smaller size, better thermal characteristics.
NVMe PCIe 3.0 x4 M.2 Connector (Up to 32 GB/s)
GIGABYTE Motherboards are focused on delivering M.2 technology to enthusiasts who want to maximize their system's potential.
Learn more about PERFORMANCE
CONNECTIVITY
Realtek GbE LAN with cFosSpeed Internet Accelerator Software
Realtek Gigabit LAN features cFosSpeed, a network traffic management application which helps to improve network latency and maintain low ping times to deliver better responsiveness in crowded LAN environments.
High Definition Digital Outputs
Enjoy true HD display capability using the most commonly integrated digital output technologies on today's HD displays and TVs.


* Actual support is dependent on APU.
COOLING
Smart Fan 5
With Smart Fan 5 users can ensure that their gaming PC can maintain its performance while staying cool. Smart Fan 5 allows users to interchange their fan headers to reflect different thermal sensors at different locations on the motherboard. Not only that, with Smart Fan 5 more hybrid fan headers that support both PWM and Voltage mode fans have been introduced to make the motherboard more liquid cooling friendly.
Fan / Water Pump Connectors
Internal Temperature Sensors
Different models have different number of fan pin headers and temperature sensors. Smart Fan 5 function may vary by model.
Temperature Sensors
Hybrid Fan Headers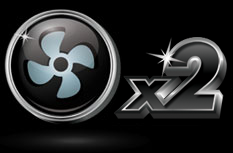 ? 5 Temperature Sensors
? 2 Fan Pin Headers
? All Fan Pin Headers Upgraded to Hybrid Fan Headers
? Supports High Current Fans up to 24W (2Ax12V) with Over-Current Protection
? Intuitive UI for Fan Control
Hybrid FAN Header
Smart Fan 5 Software
Hybrid Fan Pin Headers
Assume complete control over your liquid cooling setup! Smart Fan 5 receives up-to-the-second information on flow-rate and water-temperature through the Hybrid Fan Pin Headers or external thermistor sensors—giving you absolute mastery over your PC.
• All Hybrid Fan Headers can automatically detect the type of cooling device whether it be fan or pump with different PWM or Voltage mode.
AUDIO
High-End Audio Capacitors
GIGABYTE motherboards use high-end audio capacitors. These high quality capacitors help deliver high resolution and high fidelity audio to provide the most realistic sound effects for gamers.
Audio Noise Guard
GIGABYTE motherboards feature an audio noise guard that essentially separates the board's sensitive analog audio components from potential noise pollution at the PCB level.
ULTRA DURABLE
GIGABYTE Patented Double Locking Bracket
START SULFURIZATION PROTECTION
Sulfur compounds in the air can penetrate tiny onboard resistors creating chemical change and causing these resistors to open or short. If either of these occurs the motherboard will fail to function. By equipping resistors with an Anti-Sulfur Design GIGABYTE gives Ultra Durable Motherboards a whole new meaning.
GIGABYTE EXCELLENCE
GIGABYTE BIOS & Applications
BIOS
APP CENTER
EasyTune
@BIOS
System Information Viewer
Refreshed BIOS
The BIOS is essential for users during initial setup to allow for the most optimal settings. With a new GUI and easier to use functionalities, GIGABYTE has been able to reinvent the BIOS to give users a better experience while setting up their new system.
Corsair Vengeance LPX 16GB

DESIGNED FOR HIGH-PERFORMANCE OVERCLOCKING
VENGEANCE LPX memory is designed for high-performance overclocking. The heat spreader is made of pure aluminium for faster heat dissipation, and the custom performance PCB helps manage heat and provides superior overclocking headroom. Each IC is individually screened for peak performance potential.

COMPATIBILITY TESTED

Part of our exhaustive testing process includes performance and compatibility testing on nearly every motherboard on the market – and a few that aren't.
XMP 2.0 SUPPORT

One setting is all it takes to automatically adjust to the fastest safe speed for your VENGEANCE LPX kit. You'll get amazing, reliable performance without lockups or other strange behavior.
ALUMINUM HEAT SPREADER

Overclocking overhead is limited by operating temperature. The unique design of the VENGEANCE LPX heat spreader optimally pulls heat away from the ICs and into your system's cooling path, so you can push it harder.
DESIGNED FOR HIGH-PERFORMANCE OVERCLOCKING

Each VENGEANCE LPX module is built from an custom performance PCB and highly-screened memory ICs. The efficient heat spreader provides effective cooling to improve overclocking potential
LOW-PROFILE DESIGN

The small form factor makes it ideal for smaller cases or any system where internal space is at a premium.
AMD Wraith Prism RGB Fan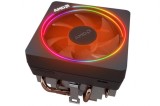 The Premium AMD Wraith Prism Cooler
Premium AMD Processor Cooling Solutions, For people who care about the way their PCs run, sound, and look.
We designed our coolers to deliver near-silent operation, bolstered with capable thermal hardware for exceptional performance.
You Pick the Colour: the AMD Wraith Prism goes where no stock cooler has gone before with per-RGB LED control around the illuminated light ring and transparent fan blades. We also have added support for Razer Chroma, so you can enjoy ambient in-game effects that react dynamically to every action and event.
But the Wraith Prism isn't just a pretty face; we've increased motherboard and RAM compatibility by minimizing the profile and added direct-contact heat pipes and fan speed control to increase thermal effectiveness, too.
Cooler Master V750 750W Semi Modular 80 PLUS Gold Power Supply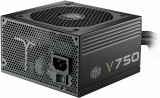 Unique 3D circuit design offers higher efficiency and improves the heat dissipation
Cooler Master's exclusive Silencio FP fan technology enhances airflow, reduces vibration and provides the best thermal performance
Fully modular, flat cable design for better cable management
100% Japanese capacitors ensures an extended lifetime and minimizes power fluctuations
Compact design 6.8W/inch3 fits perfectly with small form factor systems
80 PLUS Gold certified: up to 92% efficiency on typical load
SILENCIO FP FAN HIGH AIR PRESSURE AND LOWER NOISE
The rotation speed stays lower in the Silencio while delivering high air pressure, meaning less noise. After 50% load, the rotation speed difference compared to double ball fans is 16% better in the V750, 22% in the V650, and 34% in V550.
TIGHT VOLTAGE REGULATION
The +12V rail is the most important part of a modern power supply as both the CPU and graphic cards are powered through it. Voltage fluctuations can cause system instability from high pitch noises
You May Also Like