'Snow Storm' Core i7-9800X Series Extreme 32GB RAM 1TB Storage Water Cooling 3070Ti
£1,999.99
'Snow Storm' Core i7-9800X Series Extreme 32GB RAM 1TB Storage Water Cooling 3070Ti
Product Details
Standard Specification 

Case:

Lian Li O11 Dynamic EVO
(Front & Side Clear Glass Panels)

Processor:

I7-9800X X-Series Extreme
Speed: 3.80GHz – 4.40GHz
Cores: 8
Threads: 16

Motherboard:

Gigabyte X299X DESIGNARE 10G

RAM:

32GB Corsair Vengeance PRO 3200 RGB

Graphics Card:

MSI GeForce RTX 3070Ti 8GB Ventus 3X OC GDDR6X 

Boot & Storage Drive:

1 x 1TB M.2 Boot Drive




Processor Cooling:

Cooler Master MasterLiquid ML360R RGB CPU Liquid Cooler 

Case Cooling:

6 x Full RGB UPHere Quiet Fans 

Power Supply Unit:

850W GameMax RGB 

Extra Information:

All Fans Including AIO Pump Sync Lights through RGB Fusion 2.0 Software 

Lian Li O11 Dynamic EVO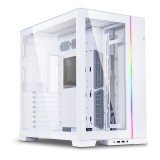 Lian Li O11D Evo ATX Mid-Tower Tempered Glass - White
The evolution continues, with the Lian Li O11D EVO PC Case. Taking modular to the next level, this mid-tower chassis can be configured to one of two modes – Normal or Reverse. On top of this, there are multiple positions for I/O panel to be placed, and three orientations for your GPU. Choose from horizontal, vertical, or even upright to fully show off your gaming hardware. Thanks to the mesh panels and spacious interior, airflow has been maximised to the extreme and there is ample support for either AiO or custom water cooling. Plus, with its intelligent dual-chamber design, cable management is easy and the interior will stay looking sleek.
LIAN LI O11D EVO PC CASE WHITE AT A GLANCE:

Modular aluminium mesh and tempered glass PC case designed with de8aur
Accommodates up to an E-ATX motherboard
Two configuration modes: Normal and Reverse Mode
Choose from three GPU positions: standard, vertical*, or upright*
Extreme airflow and support for custom water-cooling
Can hold up to nine SSDs with included brackets
*Require additional hardware.
I7-9800X X-Series Extreme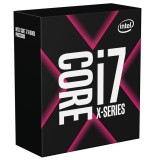 THE ULTIMATE CREATORS PLATFORM
The latest Intel Core i7 9800X X Series processor is powered by 8 Cores and 16 Threads to address the simultaneous, compute-intensive demands of creators. The Intel Core X Series CPU's allow flexible system configuration for specific creator usages, giving you access to 44 PCIe lanes, quad channel memory, plus support for Thunderbolt technology and high-speed SSD drives. The new X Series processors are fully unlocked and feature solder thermal interface material (STIM) for extreme overclocking. Get the power and convenience of a full studio in your PC to help accelerate your creative work flow from start to finish.
Gigabyte X299X DESIGNARE 10G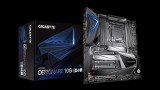 SPEC OVERVIEW
CONNECTIVITY
Next Generation 40 Gb/s Thunderbolt™ 3
Dual Thunderbolt™ 3 – The fastest 40Gb/s single-wire connection
Powered by Intel's own Thunderbolt controller the new Thunderbolt™ 3 protocol, which is available over two USB Type-C™ connectors on the back I/O of the GIGABYTE X299X DESIGNARE 10G, brings an unprecedented single-wire bandwidth of up to 40 Gb/s -- twice more than the previous generation of Thunderbolt! This incredible increase in bandwidth is also accompanied with support for different protocols such as DisplayPort 1.2 and USB 3.2, which is backwards compatible with USB 3.0 and USB 2.0, opening up a world of new possibilities.
PERFORMANCE
12 Phases IR Digital VRM Solution with 70A Power Stage
To unleash the full power of the new Intel 18 core CPU, the motherboard demands un-precedented strong power solution. GIGABYTE R&Ds selects the best components and never stop pursuing the highest overclock performance. That makes X299X DESIGNARE 10G an un-beatable motherboard in the market.
• 70A IR Power Stage for each vCore Phase
• High current capacity MOSFET
• Lower temperature
• Server level reliability

X299X DESIGNARE 10G motherboard adopts an all IR digital CPU power design which includes a digital PWM Controller with Power Stage MOSFET and is capable of providing 70A of power from each phase, for a total of incredible 840A. This 100% digital controller and additional 8+8 Solid-pin CPU Power Connectors offer incredible precision in delivering power to the motherboard's most power-hungry and energy-sensitive components, allowing enthusiasts to get the absolute maximum performance from the new 18-core 10th Gen Intel® Core™ X processors.
COOLING
Smart Fan 5
With Smart Fan 5 users can ensure that their PC can maintain its performance while staying cool. Smart Fan 5 allows users to interchange their fan headers to reflect different thermal sensors at different locations on the motherboard. Not only that, with Smart Fan 5 more hybrid fan headers that support both PWM and Voltage mode fans have been introduced to make the motherboard more liquid cooling friendly.
Fan Pin Headers
Fan / Water Pump Pin Headers
Internal Temperature Sensors
External Temperature Sensors

Noise Detection Cable
Different models have different number of fan pin headers and temperature sensors. Smart Fan 5 function may vary by model.
Temperature Sensors
Hybrid Fan Headers
Temperature Sensor Cable x 2
Noise Detect Cable x 1
8 Fan / Water Pump Connectors
7 Temperature Sensors
2 External Temperature Sensors
1 Noise Detection Cable
All Hybrid Fan Headers
Interoperable Fans and Sensors
Supports High Current Fans up to 24W(2AX12V) with Over-Current Protection
Intuitive UI for Fan Control
AUDIO
ALC1220-VB Immersive Gaming ViBes
All New Realtek High-End HD Audio Codec
ALC1220 120dB(A) SNR HD Audio with Smart Headphone Amp automatically detects impedance of your head-worn audio device, preventing issues such as low volume and distortion.
With the new VB series audio controller, stream your voice to the world vibrantly with both front/rear microphone SNR up to 110/114dB(A).
ULTRA DURABLE
Integrated I/O Shield Armor
Durable Design And Easy Installation
With an integrated I/O shield, building a GIGABYTE Ultra Durable PC is even easier and convenient. Users can expect excellent durability with the durable design of the pre-installed I/O shield.
LIGHTING
RGB Fusion 2.0
Support RGB Lighting Effect in Full Color
Personalize your next PC rig to your liking by selecting the color of your choice to illuminate the external RGB light strip.
Note: Lighting effects depicted are for demonstration purposes only. Actual lighting effects may vary by model.
EXCELLENCE
GIGABYTE BIOS & Applications
BIOS
New User Interface
All new EASY MODE shows important hardware information in one page including CPU clock, Memory, Storage, Fan.
My Favorites
Add constantly used items into the favorite menu for quick access.
Storage Information
Show all kinds of storage information including SATA, PCIE and M.2 interface.
Changelog
List all changes before saving and exiting bios. Quickly review overall settings modification.
Optimized Memory Installation Reminder
Displays correct installation reminder message when user installs two memory modules but runs single channel mode.
Intuitive Load Line Curve
Clearly show each loadline calibration setting in an intuitive curve graph.
32GB Corsair Vengeance PRO 3200 RGB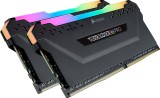 CORSAIR DDR4 VENGEANCE RAM
CORSAIR VENGEANCE RGB PRO Series DDR4 memory illuminates your system with captivating dynamic multi-zone RGB lighting, while providing the optimum in DDR4 performance and stability. Every module features ten separately controlled RGB LEDs, while the wire-free design makes installation easy. Take control with CORSAIR iCUE software and completely customize every module's lighting to match your system, or easily synchronise lighting across all your CORSAIR products with Light LINK. A custom designed PCB provides the highest signal quality for the best level of performance and stability on the latest AMD and Intel DDR4 motherboards, while specially screened ICs unlock superior overclocking.
NEXT GENERATION SOFTWARE
The powerful integrated CORSAIR iCUE software brings your system to life with vibrant RGB lighting. You can control and customise dozens of pre-set lighting profiles with a range of user modifiable colours and LED brightness, which will perfectly colour coordinate with your system.
LIGHT UP YOUR SYSTEM
CORSAIR VENGEANCE RGB PRO Series DDR4 memory features mesmerising dynamic multi-zone RGB lighting. Each stick of memory features 10 ultra-luminous RGB LEDs, which allows you to light up your system with vibrant harmonised RGB lighting.
STYLE MEETS SPEED
VENGEANCE RGB PRO Series performance PCB is custom designed and broadly tested to deliver zero compromise between style and speed. Boosted for high-frequency performance on the latest Intel® and AMD DDR4 motherboards, each element is built using carefully screened ICs for comprehensive overclocking potential.
IMPROVES THERMAL CONDUCTIVITY
The VENGEANCE RGB PRO features firmly screened memory, which is thoroughly screened ICs for comprehensive overclocking potential. The aluminium heat spreader substantially improves thermal conductivity for superb memory cooling even when overclocked.
MAXIMUM BANDWIDTH AND TIGHT RESPONSE TIMES
CORSAIR VENGEANCE RGB PRO is optimised for peak performance on the latest Intel® and AMD DDR4 motherboards, ensuring outstanding results each and every time. For a seamless install the VENGEANCE RGB PRO does not require wires or cables.
MSI GeForce RTX 3070Ti 8GB Ventus 3X OC GDDR6X 
The GeForce RTX™ 3070 Ti graphics card is powered by Ampere—NVIDIA's 2nd gen RTX architecture. Built with enhanced RT Cores and Tensor Cores, new streaming multiprocessors, and superfast G6X memory, it gives you the power you need to rip through the most demanding games.
Core / Memory
Boost Clock / Memory Speed
1800 MHz / 19 Gbps
8GB GDDR6X
DisplayPort x 3 (v1.4a)
HDMI x 1 (Supports [email protected] as specified in HDMI 2.1)
Metal backplate
Premium metal backplate provides a nice visual finish to the card. It also strengthens the card and thanks to some cleverly place thermal pads even helps to keep the temperature low.
Core Pipe
Precision-crafted heat pipes ensure max contact to the GPU and spread heat along the full length of the heatsink.
Triple Fan Thermal Design
TORX Fan 3.0: The award-winning MSI TORX Fan 3.0 design creates high static pressure and pushes the limits of thermal performance.
Zero Frozr: Calm before the storm, keeping fans still and maintaining silence until cooling is needed.
Thermal Padding: An abundance of thermal pads use any chance for additional heat transfer directly from the components.
MSI Center
The exclusive MSI Center software lets you monitor, tweak, and optimize MSI products in real-time.
Cooler Master MasterLiquid ML360R RGB CPU Liquid Cooler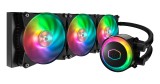 LOW-PROFILE DUAL CHAMBER
The PPS (Polyphenylene sulfide) and glass fiber construction resists a broad range of chemicals and is unaffected by moisture or immersion in water.
Our pump is light and impervious to oxidation and corrosion.
STYLISH RADIATOR
Custom design low resistance radiator allows higher flow rate, heat exchange efficiency and provides unmatched cooling performance
DOUBLE TUBING
FEP tubing makes it durable yet flexible. Sleeved tubing on the exterior to give it a premium look.
MF120R ARGB FANS
MasterFan MF120R ARGB provides a specific air cooling solution ideal to maximize air pressure for AIO liquid cooling. Designed for Builders with Addressable RGB-enabled PCs, you can personalize the color of your fans to match your PC perfectly.
6 x Full RGB UP Here Quiet Fans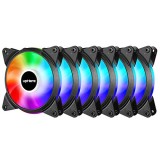 Features

Customizable ARGB LED Lighting: With 8pcs of independently programmable ARGB LED lights, provides full lighting for your build, achieving magical lighting effects.
Optimized Cooling Performance: Balanced airflow and air pressure designed for perfect compatibility with your case or cooler.
Blade Design: The unique blade configuration offers a powerful air pressure. Scientific air channel design in the frame reduces noise caused by airflow turbulence.
Long Service Life: Wear resistant hydraulic bearing construction makes the fan run noiseless and the air aolume larger with an astounding service life of more than 40,000 hours.
Synchronizable ARGB lighting via motherboard: Sync ready with all 5V 3PIN ARGB motherboard including Gigabytes, Asus, MSI, and Asrock. What You Get: T3SYC3-6 SYNC RGB Case Fan, our worry-free 12-month warranty and friendly customer service.
850W GameMax RGB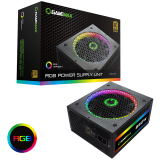 850W Modular RGB – Gold 80 Plus
GameMax RGB series power supply offers Value and Performance. They are the most suitable for cost/performance ratio and is the best choice for a system builder. The 12V CPU power and modern PCIe 6 + 2 Pin connectors are ready for high-end gaming systems. There is full electrical protection and official safety and also the quality promise by GameMax.
RGB Modes operation instructions:
1. With the memory function, turn on the power supply again the initial state is the same as the state of when the PSU was turned off.
2. Many different colour modes are available by pressing the RGB button on the front of the PSU.
3. The fan has a variety of ARGB and RGB LED lighting effects.
4. In any mode, press the RGB button for three seconds, the lights go out.


Key Features
Powerful single +12V rails offers stable DC output and supports high-end graphic cards and PC systems.

80+ Gold APFC, High-Efficiency and 90+ Certified.

Active Power Factor rate up to 0.9.

The GameMax RGB PSU includes a 14cm RGB 256 colour fan. You can switch between single colour and rainbow colour modes. Single colours include red, green, blue, yellow, white, pink and purple.

Honeycomb ventilation design for optimal heat dissipation.

Full modular output connector. 
You May Also Like