'The Dominator' Core i9-11900K Extreme 32GB RAM 2TB Storage Water Cooling 3070Ti
£1,999.99
'The Dominator' Core i9-11900K Extreme 32GB RAM 2TB Storage Water Cooling 3070Ti
Product Details
Standard Specification 


Case:
1st Player Black Clear Gaming Case 
(Front & Side Clear Glass Panels)


Processor:
i9-11900K Extreme
Speed: 3.50GHz - 5.30GHz
Cores: 8
Threads: 16
Built In Graphics: Intel UHD Graphics 750


Motherboard:
MSI MPG Z490 Gaming Edge WIFI 


RAM:
32GB Corsair Vengeance PRO 3200 RGB


Graphics Card:
MSI GeForce RTX 3070Ti 8GB Ventus 3X OC GDDR6X  


Boot Drive:
1 x 1TB M.2 Boot Drive


Storage Drive:
1 x 1TB SSD Storage Drive


Processor Cooling:
Cooler Master MasterLiquid ML360R RGB CPU Liquid Cooler 


Case Cooling:
6 x Full RGB UPHere Quiet Fans 


Power Supply Unit:
850W GameMax RGB 


Extra Information:
All Fans Including AIO Pump and RAM Sync Lights through MSI Mystic Light Software 







1st Player Black Clear Gaming Case
The sleek 1St Plater STEAMPUNK SP8 has been designed to give you the view of your components - featuring two tempered glass panels and great cooling with support for as many as 10 fans, and 2 up to 2 x 240 mm radiators.
Intel Core i9-11900K Extreme

The 11th Gen Intel® Core™ i9-11900K has got fast clock speeds and high core counts which work seamlessly together to get more out of competetive gaming and content creation. This processor is unlocked and overclockable for you to be able to unleash extreme performance.

MSI MPG Z490 Gaming Edge WIFI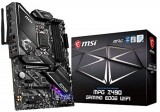 EXCLUSIVE FEATURE
PREMIUM THERMAL SOLUTION
HIGH-SPEED TRANSMISSION
CUSTOMIZE YOUR GAMING RIG
Personalize your PC with 16.8 million colors and 29 effects through Mystic Light RGB LED. Controlled in one click with the Mystic Light APP or a mobile device.
Customize colors
Customize effects
ALUMINUM COVER
All-metal extended heatsink cover enlarge the surface of heat dissipation for even high-end processors to run in full speed.
PRE-INSTALLED IO SHIELDING
Featuring the pre-installed IO shielding, makes your installation process easier and safer. The patent-pending design protect your IO ports also prevent electrostatic discharge damage, makes your motherboard a strong gaming foundation.
TWIN TURBO M.2 and M.2 SHIELD FROZR
Cooling your NVMe SSD delays throttling which results in higher overall performance. Part of the motherboards heatsink design which helps avoid SSD throttling by offering the best thermal protection.
4X Faster Lightning USB 20G
The transmission speed of the latest USB 3.2 Gen 2x2 reaches up to 20Gbps, which is four times faster than USB 3.2 Gen 1 solution. Powered by ASMedia 3241 chip, MPG Z490 GAMING EDGE WIFI provides stable high speed transmission to save time for better gaming experience.
12+1+1 DUET RAIL POWER SYSTEM
Unleash and sustain maximum performance with an aggressive VRM design with concurrent stable power delivery. Combining 8 + 4-pin power connectors and exclusive Core Boost technology, MPG series motherboard is ready to sustain heavy daily work.
CPU Power
1 phases SA Power
1 phases GT Power
Digital PWM IC
8+4 POWER CONNECTORS
8+4 pin connectors delivering adequate power supply for multi-core CPU, unleash the ultimate performance with the most reliable motherboard for best gaming experience and extreme overclocking.
MAXIMIUM DATA TRANSFER WITH 2.5G LAN
MPG Z490 GAMING EDGE WIFI features high-bandwidth and low-latency Ethernet networks for demanding gamers and power users. Onboard 2.5Gbps connectivity provides incredible data transfer speed faster than ever before. MSI LAN Manager automatically classifies and prioritizes the latency-sensitive for your applications, giving you the best online experience with low latency.
WI-FI 6 & BLUETOOTH
Use your LAN port for online gaming while using WiFi for other online applications. The Wi-Fi 6 adopts latest OFDMA and two-way MU-MIMO technologies, delivering wireless transmission speeds up to 2.4Gbps.
Core Boost
Core Boost technology combines MSI's premium layout and digital power design which allows for faster and undistorted current delivery to the CPU at pin-point precision. This creates the perfect conditions for multi-core CPU while doing.
UNMATCHED MEMORY PERFORMANCE
MSI motherboards are crammed with features to fuel your system's memory with more speed, higher overclockability and increased stability. Optimized traces and a fully isolated memory circuitry ensures perfect stability and performance, so you never have to worry about your system crashing.
MULTIPLE GPU SUPPORTS AND STEEL ARMOR
MPG Z490 GAMING EDGE WIFI supports multiple GPU solution. Optimal PCI-Express slot placement allows for better fitting and airflow. That way, you can enjoy the best graphics at the highest framerate jumping from your screen when running an AMD® CrossFire™ setup Steel Armor has more solder points on the PCB for more strength and protects the PCI-Express signals against electromagnetic interference for a stutter-free user experience.
AMPLIFY YOUR GAME WITH AUDIO BOOST
Like a dedicated sound card, Audio Boost offers a HD audio processor, dedicated amplifier and high quality audio capacitors, all physically isolated from the rest of the motherboard circuitry to ensure the purest audio signal to locate enemies with pin-point accuracy.
EZ LED CONTROL FOR RGB CUSTOMIZATION
A built-in LED button on the motherboard to control your light effect in a second. Use EZ LED CONTROL to show million of colors or turn off lights right away.
32GB Corsair Vengeance PRO 3200 RGB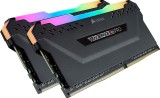 CORSAIR DDR4 VENGEANCE RAM
CORSAIR VENGEANCE RGB PRO Series DDR4 memory illuminates your system with captivating dynamic multi-zone RGB lighting, while providing the optimum in DDR4 performance and stability. Every module features ten separately controlled RGB LEDs, while the wire-free design makes installation easy. Take control with CORSAIR iCUE software and completely customize every module's lighting to match your system, or easily synchronise lighting across all your CORSAIR products with Light LINK. A custom designed PCB provides the highest signal quality for the best level of performance and stability on the latest AMD and Intel DDR4 motherboards, while specially screened ICs unlock superior overclocking.
NEXT GENERATION SOFTWARE
The powerful integrated CORSAIR iCUE software brings your system to life with vibrant RGB lighting. You can control and customise dozens of pre-set lighting profiles with a range of user modifiable colours and LED brightness, which will perfectly colour coordinate with your system.
LIGHT UP YOUR SYSTEM
CORSAIR VENGEANCE RGB PRO Series DDR4 memory features mesmerising dynamic multi-zone RGB lighting. Each stick of memory features 10 ultra-luminous RGB LEDs, which allows you to light up your system with vibrant harmonised RGB lighting.
STYLE MEETS SPEED
VENGEANCE RGB PRO Series performance PCB is custom designed and broadly tested to deliver zero compromise between style and speed. Boosted for high-frequency performance on the latest Intel® and AMD DDR4 motherboards, each element is built using carefully screened ICs for comprehensive overclocking potential.
IMPROVES THERMAL CONDUCTIVITY
The VENGEANCE RGB PRO features firmly screened memory, which is thoroughly screened ICs for comprehensive overclocking potential. The aluminium heat spreader substantially improves thermal conductivity for superb memory cooling even when overclocked.
MAXIMUM BANDWIDTH AND TIGHT RESPONSE TIMES
CORSAIR VENGEANCE RGB PRO is optimised for peak performance on the latest Intel® and AMD DDR4 motherboards, ensuring outstanding results each and every time. For a seamless install the VENGEANCE RGB PRO does not require wires or cables.
MSI GeForce RTX 3070Ti 8GB Ventus 3X OC GDDR6X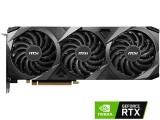 The GeForce RTX™ 3070 Ti graphics card is powered by Ampere—NVIDIA's 2nd gen RTX architecture. Built with enhanced RT Cores and Tensor Cores, new streaming multiprocessors, and superfast G6X memory, it gives you the power you need to rip through the most demanding games.
Core / Memory
Boost Clock / Memory Speed
1800 MHz / 19 Gbps
8GB GDDR6X
DisplayPort x 3 (v1.4a)
HDMI x 1 (Supports [email protected] as specified in HDMI 2.1)
Metal backplate
Premium metal backplate provides a nice visual finish to the card. It also strengthens the card and thanks to some cleverly place thermal pads even helps to keep the temperature low.
Core Pipe
Precision-crafted heat pipes ensure max contact to the GPU and spread heat along the full length of the heatsink.
Triple Fan Thermal Design
TORX Fan 3.0: The award-winning MSI TORX Fan 3.0 design creates high static pressure and pushes the limits of thermal performance.
Zero Frozr: Calm before the storm, keeping fans still and maintaining silence until cooling is needed.
Thermal Padding: An abundance of thermal pads use any chance for additional heat transfer directly from the components.
MSI Center
The exclusive MSI Center software lets you monitor, tweak, and optimize MSI products in real-time.
Cooler Master MasterLiquid ML360R RGB CPU Liquid Cooler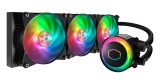 LOW-PROFILE DUAL CHAMBER

The PPS (Polyphenylene sulfide) and glass fiber construction resists a broad range of chemicals and is unaffected by moisture or immersion in water.
Our pump is light and impervious to oxidation and corrosion.
STYLISH RADIATOR
Custom design low resistance radiator allows higher flow rate, heat exchange efficiency and provides unmatched cooling performance
DOUBLE TUBING
FEP tubing makes it durable yet flexible. Sleeved tubing on the exterior to give it a premium look.
MF120R ARGB FANS
MasterFan MF120R ARGB provides a specific air cooling solution ideal to maximize air pressure for AIO liquid cooling. Designed for Builders with Addressable RGB-enabled PCs, you can personalize the color of your fans to match your PC perfectly.
6 x Full RGB UPHere Quiet Fans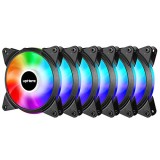 Customizable ARGB LED Lighting: With 8pcs of independently programmable ARGB LED lights, provides full lighting for your build, achieving magical lighting effects.
Optimized Cooling Performance: Balanced airflow and air pressure designed for perfect compatibility with your case or cooler.
Blade Design: The unique blade configuration offers a powerful air pressure. Scientific air channel design in the frame reduces noise caused by airflow turbulence.
Long Service Life: Wear resistant hydraulic bearing construction makes the fan run noiseless and the air aolume larger with an astounding service life of more than 40,000 hours.
Synchronize ARGB lighting via motherboard: Sync ready with all 5V 3PIN ARGB motherboard including Gigabytes, Asus, MSI, and Asrock. What You Get: T3SYC3-6 SYNC RGB Case Fan, our worry-free 12-month warranty and friendly customer service.
850W GameMax RGB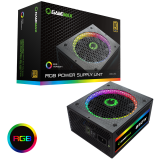 850W Modular RGB – Gold 80 Plus

GameMax RGB series power supply offers Value and Performance. They are the most suitable for cost/performance ratio and is the best choice for a system builder. The 12V CPU power and modern PCIe 6 + 2 Pin connectors are ready for high-end gaming systems. There is full electrical protection and official safety and also the quality promise by GameMax.

RGB Modes operation instructions:
1. With the memory function, turn on the power supply again the initial state is the same as the state of when the PSU was turned off.
2. Many different colour modes are available by pressing the RGB button on the front of the PSU.
3. The fan has a variety of ARGB and RGB LED lighting effects.
4. In any mode, press the RGB button for three seconds, the lights go out.
Key Features
Powerful single +12V rails offers stable DC output and supports high-end graphic cards and PC systems.
80+ Gold APFC, High-Efficiency and 90+ Certified.
Active Power Factor rate up to 0.9.
The GameMax RGB PSU includes a 14cm RGB 256 colour fan. You can switch between single colour and rainbow colour modes. Single colours include red, green, blue, yellow, white, pink and purple.
Honeycomb ventilation design for optimal heat dissipation.
Full modular output connector.
 
You May Also Like