'Vampiric' AMD Ryzen 7 16GB RAM 1TB Storage Water Cooling GTX1660
£850.00
'Vampiric' AMD Ryzen 7 16GB RAM 1TB Storage Water Cooling GTX1660
Product Details
Standard Specification 
Case:
MSI MAG VAMPIRIC Mid Tower Gaming Case


Processor:
Ryzen 7-3700X
Speed: 3.60GHz - 4.40GHz
Cores: 8
Threads: 16


Motherboard:
Asus Tuf Gaming B450-M Plus 


RAM:
Corsair Vengeance LPX 16GB


Graphics Card:
ASUS Dual GeForce® GTX 1660 6GB OC GDDR5 EVO


Boot Drive:
1TB Solid State Drive 




Processor Cooling:
ID-COOLING FROSTFLOW X 240 CPU Water Cooler AIO






Power Supply Unit:
Corsair CX Series™ CX750 — 750 Watt 80 PLUS® Bronze Certified







MSI MAG VAMPIRIC Mid Tower Gaming Case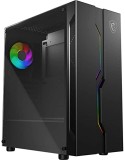 The MAG VAMPIRIC 010X gaming chassis, inspired by the duke of dark knight - Dracula. With a combination of black and grey, it is just as calm and mysterious as the castle. Moreover, a front totem of double-edged arc symbolizes the personal medal of honor, which can be projected through the addressable RGB lighting to represent low profile and clear characteristics of character.
Ryzen 7-3700X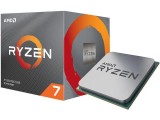 AMD Ryzen 3rd Gen CPUs have arrived boasting higher performance gains over its predecessor line up. With higher speeds, more memory and wider bandwidth the new Ryzen CPUs look to improve on and upgrade the way you relax, work and play. The AMD Ryzen 7 3700X processor includes 8 CPU Cores with 16 threads and a base clock of 3.6GHz that can be boosted to 4.4GHz. Support for DDR4 Memory continues but with the new Ryzen CPUs comes the new PCIe 4.0 Version which has improved the speeds of which your PCIe components such as graphics cards and some storage solutions communicate with the motherboard. Blur the line between elite gaming performance and workstation-class content creation with the most advanced desktop processors in the world.

Asus Tuf Gaming B450-M Plus 
Arm Your Battlestation
TUF Gaming motherboards are specially designed and tested to survive and thrive in conditions where other boards would struggle. Engineered with highly durable components, these motherboards deliver unwavering stability for gaming sessions that last as long as you demand.
When you build with a TUF Gaming motherboard, you also benefit from the TUF Gaming Alliance — an ASUS collaboration with trusted industry partners that ensures easier building, the best compatibility, and complementary aesthetics from components to case.
TUF MOSFETs

DIGI+VRM & EPU

TUF Chokes

TUF Caps

HDMI

USB 3.1 Gen 2 port

USB Type-C™ port

TUF Gaming Armor

PCI Express 3.0 Slot
CFX Support
ASUS SafeSlot

Realtek® ALC 887
Exclusive DTS Custom for Gaming headsets
? TUF Gaming Audio Cover
? Audio Shielding
? Dedicated audio PCB layers
? Premium Japanese audio capacitors

DDR4

AMD AM4 Socket

AMD B450 Chipset

32Gb/s M.2 Support
SATA & PCIE x4 mode

SATA 6Gb/s ports

Front USB 3.1 Gen 1
Easy PC DIY Experience
TUF Gaming motherboards offer easy and safe DIY builds by leveraging great design, innovative engineering, and strong partnerships with major component manufacturers. The unrivalled combination of military-grade TUF Components, TUF Protection and the TUF Gaming Alliance means that you can rest assured that your gaming rig will go the distance.
TUF gaming alliance
TUF Gaming Alliance is the marque of collaboration between ASUS and major PC-component manufacturers, including trusted brands like Antec®, Apacer®, Ballistix, Cooler Master®, Corsair®, Deepcool, Enermax, G.Skill, GeIL®, In Win, Scythe, SilverStone, Team Group and XPG. A growing range of compliant parts, from PC chassis and power supplies to CPU coolers and DRAM, guarantee both compatibility and aesthetic harmony. We're also continually increasing our partnerships to make the TUF Gaming Alliance ever stronger.
TUF PROTECTION
SAFESLOT
Protect your graphics card investment
SafeSlot is the PCIe slot reinvented by ASUS and engineered to provide superior retention and shearing resistance. Manufactured in a single step using a new insert-molding process, SafeSlot integrates fortifying metal for an inherently stronger slot, which is then firmly anchored to the PCB through additional solder points.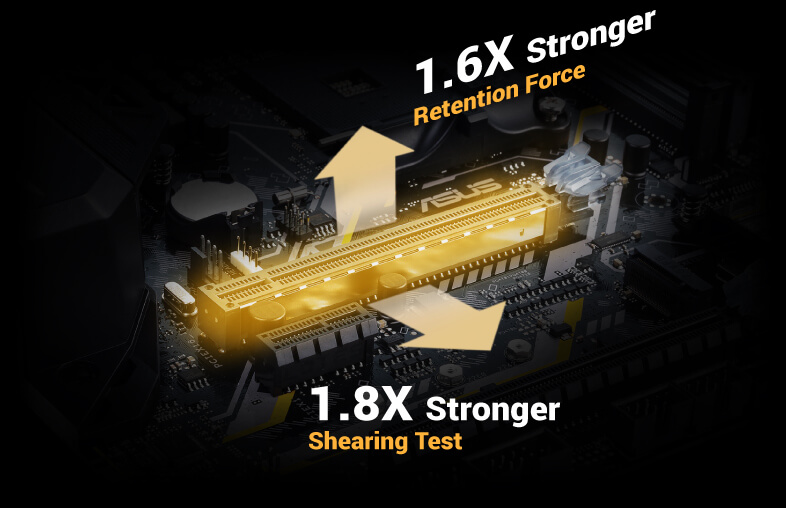 ESD GUARDS
Electrostatic discharge protection
ESD Guards prolong the life of components while preventing damage from electrostatic discharge, providing protection for up to +/- 10kV of air discharge and +/- 6kV of contact discharge — greatly surpassing the respective industry standards of +/- 6kV and +/- 4kKV
MORE
TUF COMPONENTS
TUF CHOKES
Certified military-grade TUF chokes deliver rock-steady power to the CPU, helping to improve system stability.
TUF CAPACITORS
+20% temperature tolerance and 2.5X-longer lifespan.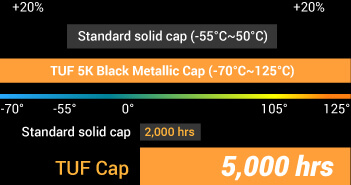 TUF MOSFETS
Certified military-grade MOSFETs with lower RDS(on)*.
*Lower RDS(on) results in better power efficiency and reduced heat generation.

TUF LANGuard
BEST SURGE PROTECTION
TUF LANGuard is a military-grade innovation that integrates advanced signal-coupling technology and premium surface-mounted capacitors to improve throughput, protecting the motherboard from lightning strikes and static electricity.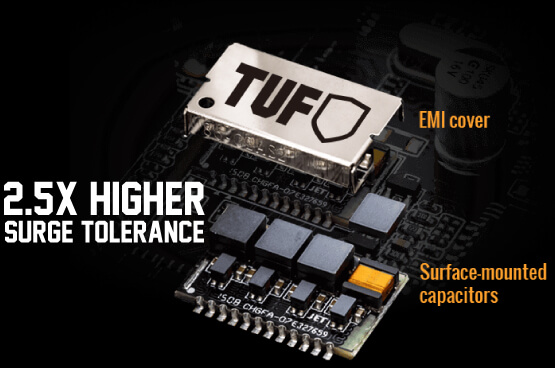 PERFORMANCE LEVEL UP
FLEXIBLE COOLING CONTROLS
FAN XPERT 2+
System temperatures are key to a stable gaming rig. TUF Gaming motherboards include FAN Xpert 2+ software that's able to intelligently control system fans based upon the input of sensor. This ensures that your TUF Gaming system stays perfectly cooled, no matter how long you play.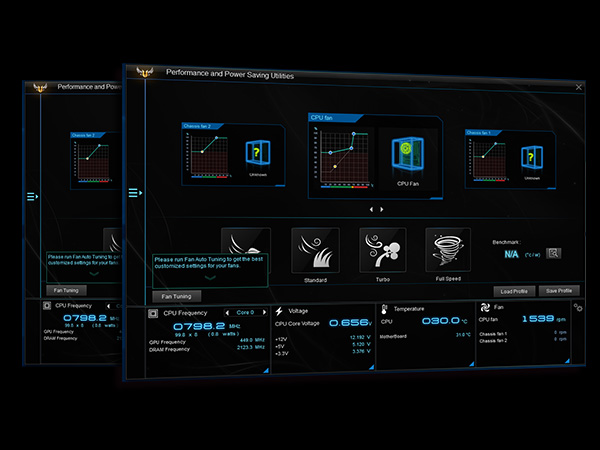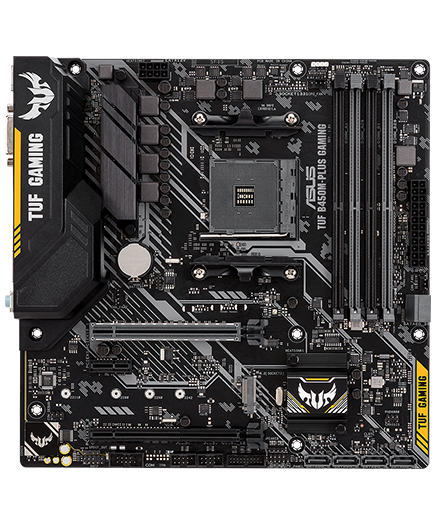 FAN XPERT 2+
TUF B450M-PLUS GAMING features the most comprehensive fan controls ever, configurable via FAN Xpert 2+ and our award-winning UEFI BIOS.
Multiple temperature sources
 
4-pin PWM/DC fan
Each header can monitor and react to dedicated thermal sensors.
DDR4 SUPPORT
TUF Gaming motherboards are subjected to stringent tests to ensure they're ready for any gaming environment. That foundation is backed by extensive validation lists that include memory kits for a range of budgets. Whether you're building a gaming PC that hits the performance sweet spot or aiming for sensible specs, it's easy to pick the right kit for your TUF Gaming rig.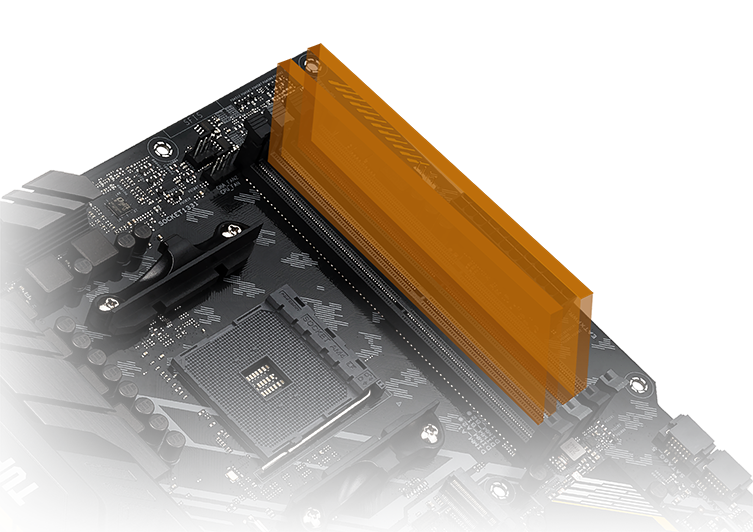 GAME YOUR WAY
Gaming Audio
DTS CUSTOM FOR GAMING HEADSETS
Hone your battleskills with exclusive DTS Custom onboard audio. Utilising advanced emulation techniques to create positional cues via stereo headphones, DTS Custom takes onboard audio to a new frontier. With three presets ? Aerial, Soundscape, and Tactical ? for different genres, you'll have a distinct advantage in every game.
SOUNDSCAPE MODE
The ideal audio envelope for MMO, RPG, action and horror games — your ears will put you in the centre of the action!
AERIAL MODE
Experience audio as though hovering above the game world, with sound coming from ahead — perfect for MOBA, RTA, strategy and sports titles!
TACTICAL MODE
Shhh — is that an enemy just around the corner? DTS Custom emphasises detail for stealthy play, so you'll detect and locate every footstep!
MORE
OUTSHINE THE COMPETITION
AURA SYNC
A well-tuned system deserves a matching aesthetic. ASUS Aura offers full RGB lighting control with a variety of functional presets for the built-in RGB LEDs as well as strips connected to the onboard RGB headers. And it can all be synced with an ever-growing portfolio of Aura-capable hardware.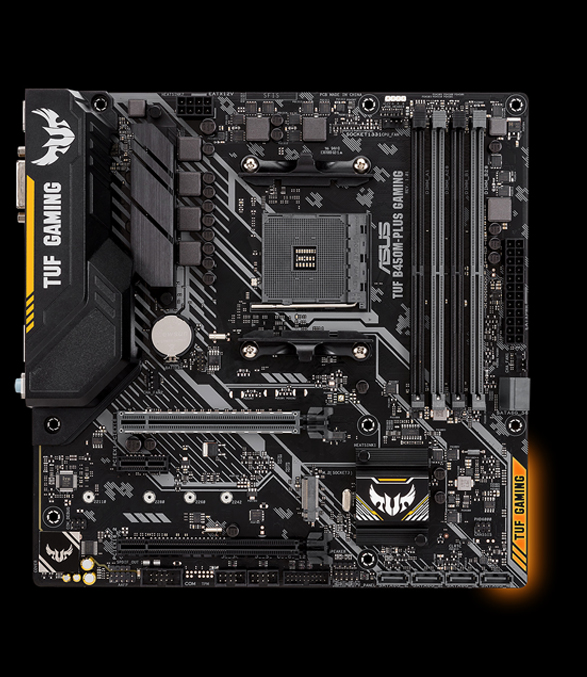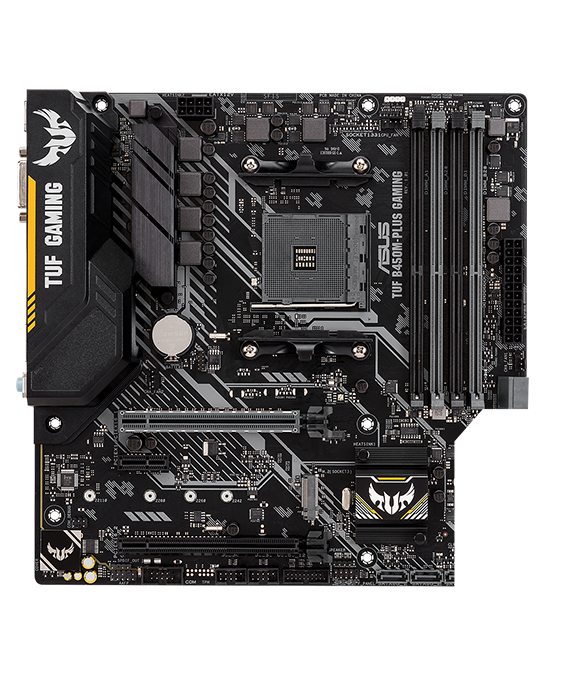 ULTRAFAST TRANSFER SPEED
Native 10Gbps USB 3.1 Gen 2 Type-A Support
With a backward-compatible USB 3.1 Gen 2 Type-A, you'll experience ultimate connection flexibility and blazing data-transfer speeds of up to 10Gbps – or twice as fast as USB 3.1 Gen 1.
Speed Up with Onboard M.2
With x4 PCI Express® 3.0 bandwidth, M.2 supports up to 32Gbps data-transfer speeds. It's the perfect choice for an operating system or application drive, making your PC and apps work as fast as possible.
Corsair Vengeance LPX 16GB

DESIGNED FOR HIGH-PERFORMANCE OVERCLOCKING
VENGEANCE LPX memory is designed for high-performance overclocking. The heatspreader is made of pure aluminum for faster heat dissipation, and the custom performance PCB helps manage heat and provides superior overclocking headroom. Each IC is individually screened for peak performance potential.
COMPATIBILITY TESTED
Part of our exhaustive testing process includes performance and compatibility testing on nearly every motherboard on the market – and a few that aren't.
XMP 2.0 SUPPORT
One setting is all it takes to automatically adjust to the fastest safe speed for your VENGEANCE LPX kit. You'll get amazing, reliable performance without lockups or other strange behavior.
ALUMINUM HEAT SPREADER
Overclocking overhead is limited by operating temperature. The unique design of the VENGEANCE LPX heat spreader optimally pulls heat away from the ICs and into your system's cooling path, so you can push it harder.
DESIGNED FOR HIGH-PERFORMANCE OVERCLOCKING
Each VENGEANCE LPX module is built from an custom performance PCB and highly-screened memory ICs. The efficient heat spreader provides effective cooling to improve overclocking potential
LOW-PROFILE DESIGN
The small form factor makes it ideal for smaller cases or any system where internal space is at a premium.
ASUS Dual GeForce® GTX 1660 6GB OC GDDR5 EVO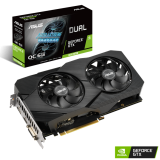 ASUS Dual GeForce® GTX 1660 6GB OC Edition GDDR5 EVO rocks high refresh rates for an FPS advantage without breaking a sweat.
The GeForce® GTX 1660 is built with the breakthrough graphics performance of the award-winning NVIDIA Turing™ architecture.
Broadcast your gameplay with the GTX 1660's dedicated hardware encoder that is optimised for Open Broadcaster Software (OBS).
GeForce Experience lets you capture and share videos, screenshots, and livestreams with friends, keep GeForce drivers up to date, and easily optimise your in-game settings.
Axial-tech fan design features longer fan blades and a unique barrier ring to increase air pressure.
0dB Technology lets you enjoy light gaming in relative silence.
Auto-Extreme Technology uses automation to enhance reliability.
2.7-Slot Design expands cooling surface area to make the most of the two powerful Axial-tech fans.
A Protective backplate secures components during transportation and installation.
144-Hour Validation Program puts cards through a series of stringent tests to ensure compatibility with the latest games.
GPU Tweak II provides intuitive performance tweaking, thermal controls, and system monitoring.
2x Fans. 2x Fun.
The ASUS Dual GeForce® GTX 1660 EVO sets you up with a serious advantage for high definition AAA gaming. Marathon gaming session? Multi-hour raid? With Axial-tech fans and Auto-Extreme technology, the Dual 1660 EVO will keep pumping out frames long after competitors have bitten the dust. If you're looking for a solid, reliable gaming experience, this is it.
COOLING
Axial-tech Fan Design
Better, faster, stronger
Newly designed for the latest generation of top-end ROG graphics cards, these fans feature a smaller hub that facilitates longer blades and a barrier ring to increase downward air pressure.
ENGINEERING
Auto?Extreme Technology
Precision automated manufacturing
Auto-Extreme Technology is an automated manufacturing process that sets new standards in the industry by allowing all soldering to be completed in a single pass. This reduces thermal strain on components and avoids the use of harsh cleaning chemicals, resulting in less environmental impact, lower manufacturing power consumption, and a more reliable product overall.
GPU Tweak II
Monitor, tweak, and tune
The ASUS GPU Tweak II utility takes graphics card tuning to the next level. It allows you to tweak critical parameters including GPU core clocks, memory frequency, and voltage settings, with the option to monitor everything in real-time through a customizable on-screen display. Advanced fan control is also included along with many more features to help you get the most out of your graphics card.
144 Hour Validation Program
"Extensive" may be an understatement
Each card must meet rigorous performance and reliability standards before it ships. Performance and stress tests are run with the latest chart-topping titles like Fortnite, League of Legends, Overwatch, and PlayerUnknown's Battlegrounds. We also carry out reliability trials that include a 144-hour stability test and a series of 3DMark benchmarking runs to ensure the card performs well when pushed to the limits.
ID-COOLING FROSTFLOW X 240 CPU Water Cooler AIO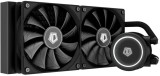 240MM Radiator 2*120MM PWM Fan
Enhanced Pump Design For Superb Cooling 
Solid Built, Solid Looking 
Classic White LED Lighting On Pump 
Micro Fin Pure Copper Base Larger Heat Dissipation Area 
Premium Sleeved Tubing, Beautiful and Durable 
Thick 240MM Radiator, Excellent Head Dissipation 
Dual High Static Pressure PWM Fans, Outstanding Cooling Performance
Corsair CX Series™ CX750 — 750 Watt 80 PLUS® Bronze Certified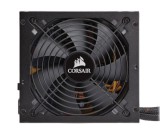 AN IDEAL CHOICE FOR VALUE-CONSCIOUS SYSTEM BUILDERS AND UPGRADERS
CX Series power supply units provide modern power supply technologies and 80 PLUS Bronze efficiency at a competitive price point. It is black with black cable sleeving and connectors and a thermally controlled 120mm fan. The LLC resonant topology with DC to DC ensures complete compatibility with all modern day PCs.
LOW NOISE
80 PLUS Bronze certified efficiency and clever fan design allow for little or no detectable fan noise during regular operation.
GOOD LOOKS
The matte black finish, black-sleeved cables and black connectors help give your system a restrained, high-tech look.
RELIABLE AND COMPATIBLE
CX Series is built and tested to strict standards for trouble-free installation and smooth operation.
CORSAIR ENGINEERING AND QUALITY CONTROL
Every Corsair power supply is designed by our California engineering team and built to our exact specifications. The same care that goes into the design and testing of our renowned high-power enthusiast power supplies also goes into the CX Series, because you need confidence and reliability regardless of your build budget.
AMPLE CONNECTORS AND LONG CABLES
Long cables make CX Series suitable for installation even in full-height tower cases, and the generous cable count allows you to power multiple components and storage devices.
LARGE-DIAMETER, THERMALLY CONTROLLED FAN
Once you've installed a PSU, you shouldn't have to think about it. Employing a thermally controlled fan makes the CX Series virtually silent at idle, and the large diameter reduces noise even when you're pushing your system hard.
You May Also Like